In Memory
Susan Aughenbaugh (Buchanan)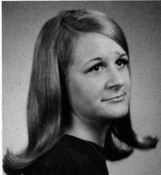 Susan Jane (Aughenbaugh) Buchanan
POSTED: September 17, 2009
April 9, 1951 - Sept. 15, 2009
Susan Jane (Aughenbaugh) Buchanan, 58, Irvona, formerly of Altoona, died Tuesday afternoon at Altoona Regional Health System, Altoona Hospital Campus.
She was born in Altoona, daughter of Reginald Denny and Faye (Carrig) Aughenbaugh. She married Archie C. Buchanan Jr. on Nov. 23, 1970.
Surviving are her husband; a son, James B. Buchanan and wife, Reagan, of East Freedom; two daughters: Jessica R. (Buchanan) Gray and husband, Robin, of Irvona and Stephanie V. (Buchanan) Ertwine of Altoona; five grandsons: James Buchanan Jr., Paul Buchanan and Brendan, Ethan and Jonathan Gray; four granddaughters: Hayley and Harley Ertwine and Isabella and Anna Landrum; and a sister, Nancy Maurer of Plano, Texas.
She was preceded in death by her father; a son-in-law, Douglas Ertwine; and a brother-in-law, Craig Maurer.
Susan was a graduate of Altoona High School. She was a homemaker and attended Community Baptist Church, Altoona. She was a member of the Chairman's Circle of The 700 Club. She enjoyed crafting and spending time with her family, especially her grandchildren.
Susan was loved by many. She had a loving heart and a forgiving spirit and was a peacemaker. Her family considered her a perfect mother and wife.
Friends will be received from 2 to 4 and 6 to 8 p.m. Friday, Sept. 18, 2009, at Mauk & Yates Funeral Home Inc., Juniata, where a funeral service will be held at 8 p.m. Friday by Pastor Mark Mahan. Interment at Grandview Cemetery.
In lieu of flowers, memorial contributions may be made to Home Nursing Hospice Care.